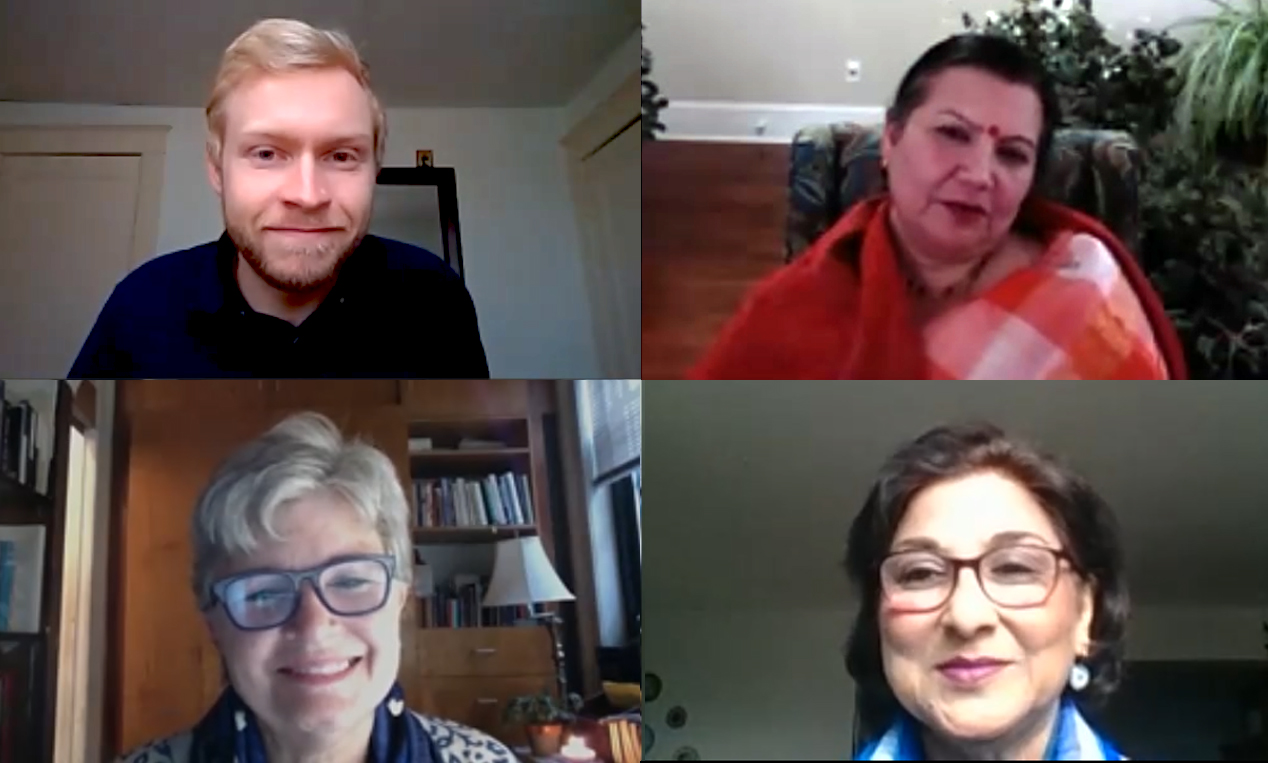 Pictured (clockwise from top left): AJ Debonis, Anindita Chaterjee Bhaumik, Robina Niaz, the Rev. Sally MacNichol
As we continue to examine the impact of the COVID-19 pandemic, this episode brings together three faith-based activists and service providers to discuss the disturbing rise of domestic violence during the pandemic, and the plight of victims who are at a higher risk due to social isolation and stay-at-home orders.
For those who aren't safer in their own home, the pandemic has created a worst-case scenario where options are limited. An average of 115 New Yorkers have visited the city government's domestic violence resource website each day since the start of the pandemic — a staggering increase from the usual daily average of 45 — and similar trends have been noted around the globe.
As our guests make clear, this isn't a new problem. Like so many underlying systemic issues that have intensified in the last month – such as racial and class disparities in the pandemic's death toll – the pre-existing threat of domestic violence has only been exacerbated by COVID-19, and has become a public health issue in its own right. This episode explores the risks victims and survivors face in these challenging times, as well as ways that faith leaders can support them.
Joining us for this conversation are:
Anindita Chatterjee Bhaumik, a certified trauma professional, Licensed Independent Clinical Social Worker, and Director of Boston Evening Therapy Associates
Robina Niaz, Founder and Executive Director of Turning Point for Women and Families
The Reverend Dr. Sally MacNichol, Co-Executive Director of CONNECT, an organization that works with New York City communities to prevent domestic violence
______________________________________
DOMESTIC VIOLENCE RESOURCES
NATIONAL:
If you are in need of immediate assistance, please call 911.
RAINN (Rape, Abuse & Incest National Network) National Domestic Violence Hotline – 24/7 Crisis Hotline: (800) 799-7233
National Domestic Violence Hotline – 24/7 Crisis Hotline: (800) 656-4673
NEW YORK CITY:
 New York City 24-hour hotline: 1-800-621-HOPE (4673)
CONNECT seeks to create safe families and peaceful communities by transforming the beliefs, behaviors, and institutions that perpetuate violence. Programs include Transformative Education and Community Building. To become a CONNECT Faith partner, please reach out to connectfaith@connectnyc.org. CONNECT Faith offers training, workshops and technical assistance for faith leaders and their communities as well as spiritual counseling for survivors.
Turning Point for Women and Families: We are working remotely. Our hours of operation are Monday-Friday, 10am to 6pm. To reach us please call at 718-550-3586 or email info@tpny.org
Turning Point's RESOURCE GUIDE FOR NYC DOMESTIC VIOLENCE SURVIVORS DURING THE COVID-19 PANDEMIC – this list includes resources for:
– Mayor's Office to End Domestic and Gender-Based Violence
– Other Domestic Violence Services
– Food Assistance in each borough and Long Island
– Financial Assistance
MASSACHUSETTS:
SafeLink https://casamyrna.org/get-support/safelink/: 24/7 Crisis Hotline: (877) 785-2020, 24/7 Crisis Hotline: (877) 521-2601 (TTY)
Our Deaf Survivor's Center: 24/7 Crisis Hotline: (885) 812-1001
Additional resources in Massachusetts: https://www.mass.gov/service-details/domestic-violence-programs-for-survivors
______________________________________
Podcast Questions? Comments?
Have a question for our guests or comment on our podcast series? Would you like to suggest a guest or topic for a future podcast episode? Please feel free to contact us at podcast@interfaithcenter.org.
This episode of "Interfaith Matters" is hosted by co-producer AJ DeBonis, engineered and edited by co-producer Michelle Polton-Simon, and executive produced by Kevin Childress.